Written on September 11, 2019 By texasscaregrounds in Uncategorized

YES !!! WE ARE OPEN RAIN OR SHINE 
Indoor Waiting Area !!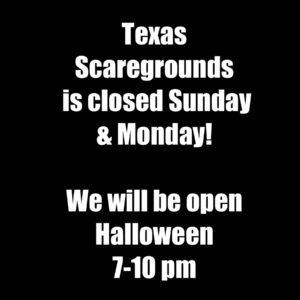 Last weekend of 2023!
Read about all the specials!!!!
Don't miss out!Tail Gate party Friday & Saturday night !
Rangers game will be live streamed!
Our outdoor Party Pad. 21+ BYOB ! Beer, Baseball and BOOS! What else could you ask for? (IDs will be checked)
SATURDAY NIGHT SPECIAL EVENTS
Ranger game and tailgate party!
Psychic Chris Brock will be here!!!
A rated R haunt? What!? We are offering an extra special version of CHAOS!Regular but awesome from 7pm to 10pm!
THEN…10pm-Midnight Texas Scaregrounds' CHAOS haunt goes up a notch!
You may get touched, wet, trapped….you dictate how hard core you want! From level ONE (regular haunt) to Level FOUR (Intense)You get to choose!
DO YOU DARE? Who has the guts? We know we do…Do you?! (No one will be injured…but we will terrorize you)
Only $25 per person with one canned good per person anytime afterwards! Best deal in town for 4 attractions !Texas ScareGrounds Fort Wolters Edition is open!
What makes Texas Scaregrounds different from all the other haunted houses? We put you in the middle of the scene and you have to battle your way out. Rather than just look at some props and call it a haunted house. If you truly want an interactive attraction this is the place for you!
Did we build a haunted attraction in a haunted building!? Yes, yes we did!
Group rates available! Military and First responders Discounts. Text 817-817-6773 for info!
www.TexasScareGrounds.com832 Hood RoadMineral Wells, Tx 76067
No Refunds
FOUR ATTRACTIONS-ONE LOCATION! Chaos voted Best Haunt in Texas!
Price is $30 for all 4 attractions! Get $5 off with a canned good when you pay at the door!
Or
Pay $30 online!
When purchase on line you don't have to wait as long in ticketing line!
Pay $50 for RIP pass and you will move to front of all lines (not in front of other RIPS)
Do you want an all night experience? Pay $75 per person for a Terror Pass, and go to front of lines and go through attractions as many times as you can handle!
Opening Night September 29th
Open every
Friday and Saturday in October
7pm to Midnight
Including
Halloween Night 7-10pm
817-819-6773
#ScreamsDoComeTrue
NO REFUNDS
OPEN RAIN OR SHINE